Super Stuffer

Balloon Stuffing Equipment at our wholesale store with free shipping available. Browse our collection of balloon Stuffing Equipment and many other balloon products.
Puff 'N Stuff®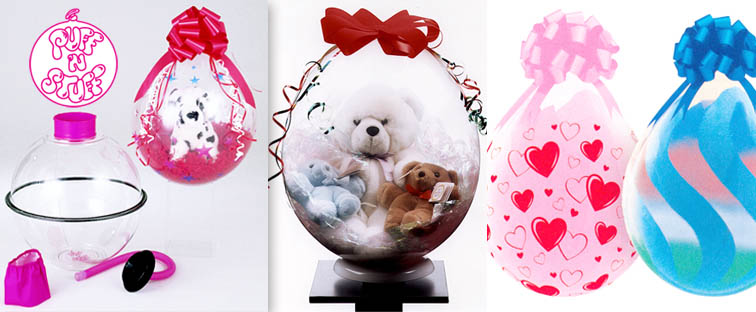 Surprize Enterprize Inc. developed the Puff 'N Stuff® table top stuffing chamber for shops with minimal space and for people on the go.
Features include:
The Puff 'N Stuff® stuffing chamber is light-weight, portable and compact yet is identical in size to the Super Stuffer® stuffing chamber.
Made of tough clear PETG and ABS plastic.
The chamber allows the operator to complete their stuffing creation with 360 degrees of visibility.
The chamber opening is fitted with a 5" (inside diameter) collar, injection moulded from tough ABS plastic.
The collar is designed with 6 nubs to allow manual stretching of the balloon neck or to facilitate reopening of the balloon if required.
A cloth protective sleeve is supplied and used to help protect the balloon from damage during stuffing.
Also supplied is an inflator hose to for use with most balloon inflators. Balloon sold separately.
Optional Equipment and Supplies:
The balloon expander, BX2000®, is the first hand held balloon expander ever invented and is used to quickly and easily expand the neck of latex balloons over the chamber opening. Made of ABS plastic and stainless steel tangs.
Air Balloon® inflator. Provides a source of clean air to quickly inflate your balloon into the Puff 'N Stuff® chamber.
The Balloon Gift Display Stand, BGDS700, is a great way to display your stuffed balloon creations. Made of a two part aluminum post, a plastic base and 7 metal powder-coated display rings.
Balloon gift display bags. Clear polypropylene plastic bags specifically designed to hold and display stuffed balloons.
Puff 'N Stuff® "Surprize Package" Starter Kit
This starter kit offers everything you need to get started at a discounted package price!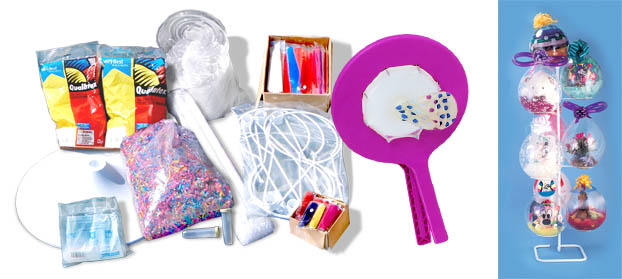 | QTY | Description |
| --- | --- |
| 1 | Puff 'N Stuff |
| 1 | Air Balloon Inflator |
| 1 | Balloon Expander |
| 1 | Balloon Shine Treatment |
| 1 | Sizzle Shred (1LB Bag) |
| 50 | 18" Stuffing Balloons |
| 50 | 8" Balloon Saucers |
| 100 | EZ Balloon Disc (Balloon Closure) |
| 50 | Large 8" Pull Bows |
| 50 | Domed Clear Bags |
Puff 'N Stuff User Manual (Adobe Reader Required)